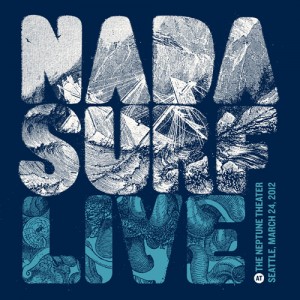 Live at the Neptune Theatre
Clear Eye Clouded Mind
Waiting For Something
Happy Kid
Whose Authority
What Is Your Secret
Teenage Dreams
Weightless
Killian's Red
Jules and Jim
Concrete Bed
80 WIndows
When I Was Young
The Way You Wear Your Head
No Snow On The Mountain
Blonde On Blonde
Hi-Speed Soul
Looking Through
See These Bones
Inside of Love
Always Love
Blankest Year
on saturday march 24th, 2012, we drove into seattle, washington, one
of favorite cities in the world. we were in the midst of a US tour in
support of the stars are indifferent to astronomy. days before, our
longtime friend and frequent producer john goodmanson told us that the
neptune theatre, where we were going to play, was wired for sound,
with a whole extra set of cables going from the stage down to the
basement. did we want him to record the show? our answer: YES!
a few months ago, we asked fans if they'd be interested in a live
album. their answer: YES!
well, it's ready and we're excited to announce the release of Live at
the Neptune Theatre. it's available to pre-order in a limited edition
3 x LP package that includes a show poster from that night, an
LP-sized 8-page color booklet, a t-shirt iron-on and a temporary
tattoo. the package will ship in early 2016 but when you pre-order you
will receive an immediate digital download of the album. the deluxe
package is only available to order through pledge music:
http://www.pledgemusic.com/projects/nadasurf
the album is also available at all digital outlets today.
if you order tickets for the november shows in dc, nyc and toronto you
will also receive a free digital download of the album with your
ticket confirmation.
we hope you enjoy the record, we sure enjoyed making it!