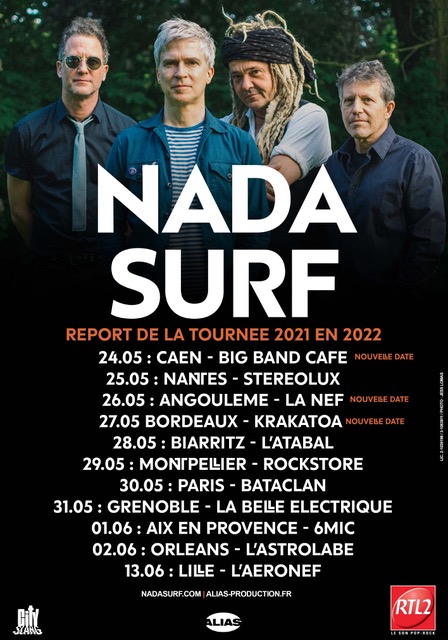 Je n'arrive pas à croire que je suis en train de taper ceci, deux semaines à peine avant notre spectacle à Lille. Mais nous venons d'apprendre que notre tournée française d'octobre prochain doit être repoussée. J'ai arrêté de compter le nombre de tournées que nous avons dû déplacer pendant cette pandémie, mais celle-ci est la plus difficile.
Cela nous brise le cœur. On voulait vraiment jouer ces concerts. Nous avons quand-même une bonne nouvelle: nous ferons une nouvelle série de dates plus longue en mai/juin 2022, et nous sommes convaincus que cette fois, nous pourrons monter à nouveau sur scène.
Je veux profiter de cette occasion, non seulement pour vous demander pardon pour nouvelle annulation et pour tous les arrangements que vous avez dû faire pour venir, mais aussi pour dire que nous ne considérons pas votre loyauté (ou celle de n'importe lequel de nos fans) pour acquise. Vous nous avez fait le meilleur des accueils et témoigné le plus grand des soutiens tellement de fois. Rien de tout ce qui nous arrive ne serait possible sans vous. Nous avons appris à connaître un grand nombre d'entre vous personnellement, mais on vous aime tous et on est conscients de la chance qu'on a.
Nous voulons rester positifs et nous espérons que vous le pourrez aussi. Portez-vous bien et rendez-vous au printemps prochain !
Matthew Caws, au nom de Nada Surf
(on m'a aidé avec les accents et la grammaire, mais le message est le mien
)
—–
Dear friends in France,
I can't believe I'm typing this, just two weeks before our show in Lille, but we've just learned that the October tour is being postponed. I have lost count of how many tours we've had to move during this pandemic, but this is the hardest one.
We are heartbroken. We really wanted to play these shows. But we have good news: we have a new and longer set of dates in May/June 2022, and our confidence is very high that we'll be able to take the stage then.
I want to take this opportunity not only to apologize for the cancellation and for effort of any plans you made, but to say that we don't at all take your loyalty (or that of any of our fans) for granted. You have given us the greatest welcome and support time and time again. None of this would be possible without you. We have gotten to know a great number of you personally but you all mean the world to us. We know how lucky we are.
We're going to stay positive and hope you can too. Stay safe and healthy and see you in the spring!
so much love,
Matthew